Alyn Shipton's New Orleans Friends
featuring Adrian Cox (clarinet) Play Jazz at Vespers
Does New Orleans jazz belong in church? This is an opportunity to hear traditional jazz in a gospel concert setting! Exactly 65 years ago from 2019, the celebrated New Orleans clarinettist George Lewis recorded his album "Jazz at Vespers" in Oxford, Ohio. His band was the leading New Orleans revivalist band at the time, comprising veterans who had all been in on the birth of jazz. Playing in an Episcopal church, they focused on the spirituals and hymns that had been part of the music from the start.
This band, led by BBC Radio 3's Alyn Shipton, is made up of musicians who have all spent time in New Orleans learning from the founding fathers of the music, and in these concerts – launched in May 2019 at SJE Arts in Oxford UK, and followed by a short tour of other arts centres in converted church buildings – they re-explore the repertoire that Lewis made famous, from lesser known pieces such as "Sometimes My Burden Is Hard To Bear" to old favourites like "Down By The Riverside" and "Lord, Lord, Lord, You Surely Been Good To Me". And just like the Lewis band of the '50s, Alyn's jazz friends play entirely acoustically without amplification. The music runs the full emotional range from soft, contemplative pieces to joyous outpourings of the infectious rhythms of the Crescent City.
Personnel: Finlay Milne, trumpet; Adrian Cox, Clarinet; Simon Picton, guitar and banjo; Alyn Shipton, bass and Emile Martyn, drums. On some concerts they are joined by Richard Simmons, piano.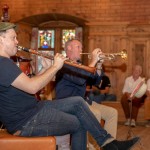 Recent concerts in Oxford, Ashburton and Calstock, all arts centres in current or former  churches. More concerts to come in late 2019.
Here's a review of the Oxford concert on 22 May 2019 from Oxford's online Daily Information:
Sincerity and down-home charm
In 1954 George Lewis, clarinettist and figurehead of the revival of New Orleans jazz, recorded his album Jazz at Vespers in Oxford, Ohio. 65 years later in a very different Oxford, Alyn Shipton and his New Orleans Jazz Friends performed a selection from this recording in addition to the hymns and spirituals that made up Lewis's wider repertoire.
Like Lewis's band in the '50s, the Friends played entirely acoustically, without amplification. Any apprehensions I had about the sound – I'd been to jazz gigs at Freud where performers have abandoned sets half way through because no one could hear anything – were dispelled as the band began to play. Their collective sound was never swamped and the nuances of each individual instrument, and their interactions with each other, were easily picked out if you chose to listen in.
Adrian Cox on clarinet was sublime. His range encompassed with ease the solemnity of the more pensive spirituals, and moments of playfulness shared with Finlay Milne (trumpet) as they vied to have their melodies heard in the head of each piece. As a fan of rhythm section solos, I was pleased that after the interval Shipton, plus Emile Martyn and Simon Picton (on bass, drums and banjo respectively), had more time to improvise and bring their sounds to the forefront of the mix.
In some pieces, after solos had been passed between clarinet, trumpet and Richard Simmons' piano, the band quietened to allow a verse or two from the hymns and spirituals to be sung. When Milne or Cox sang, we were often coaxed into clapping along. Involvement in the music, even at such a simple level, felt spiritually beneficial somehow. I was a slightly reluctant choral scholar at University so have sat through my fair share of services, not being fussed about partaking in anything other than the pieces I was contracted to sing – but here in St John the Evangelist I welcomed the impulse to join in. Some audience members sang along too – I was surprised that more didn't, and even more so that irritated glances from others in the audience were thrown towards those who did.
There were times where I wished we'd been on our feet instead of sat dutifully in rows, and judging by the restlessness and enthusiasm of the band, Martyn on drums in particular, I think they wish we'd been up and dancing too. This isn't to say the atmosphere was at all dead – as the band received their entirely deserved standing ovation, some of the audience whooped for more as if it were Saturday night at the Bullingdon.
In A New History of Jazz, Shipton himself writes of George Lewis that he played 'in a manner highly charged with emotion' and that he exuded a 'sincerity and down-home charm'. Much the same can be said of the New Orleans Jazz Friends – this concert straddled the religious and the secular beautifully and all with great reverence for the man who inspired it.
Main picture by John Watson/jazzcamera.com